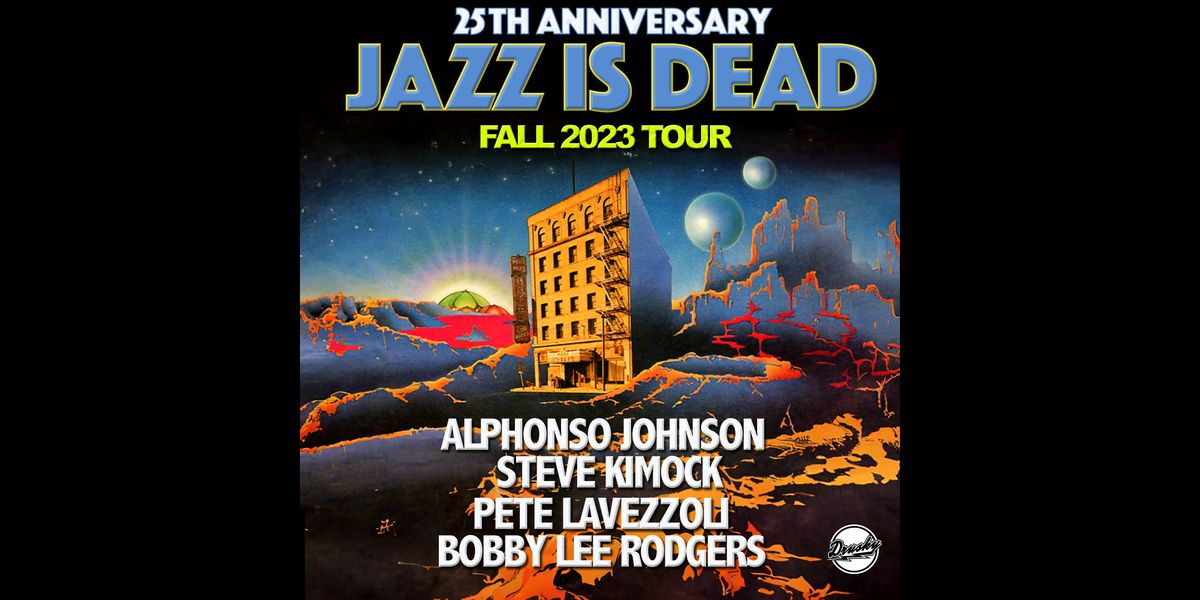 8:00pm
This event is for all ages.
US$29.75–US$59.75
Jazz is Dead: Celebrates its 25th Anniversary
Saturday, December 2, 2023 | This event is for all ages!
Drusky Entertainment presents:
Jazz is Dead: Celebrates its 25th Anniversary
Saturday, December 2nd, 2023
Doors: 7:00PM / Show: 8:00PM
Carnegie of Homestead Music Hall (Munhall, PA)
Ticket Prices: $29.75 - $59.75
This event is for all ages.
The acclaimed All-Star instrumental ensemble, famous for interpretations of classic Grateful Dead songs with jazz influences, returns in 2023 to celebrate its 25thAnniversary.Co-founder Alphonso Johnson will be joined by Steve Kimock, Pete Lavezzoli & Bobby Lee Rodgers, performing Grateful Dead's 'Wake of The Flood' marking it's 50thAnniversary, in addition to other beloved selections. Jazz Is Dead XXV 'reunites' two greats! Steve Kimock & Alphonso Johnson, who together in heavyweight post-Garcia Grateful Dead off-shoot The Other Ones together with Bob Weir, commanded the instrumental prowess of that band.
Formed in 1998 by bassist Alphonso Johnson (Weather Report, Santana, Bobby & The Midnites, The Other Ones),drummer Billy Cobham (Miles Davis, Mahavishnu Orchestra, Bobby & The Midnites), keyboardist T Lavitz (Dixie Dregs) &guitarist Jimmy Herring (Aquarium Rescue Unit, Widespread Panic), with drummers Rod Morgenstern (Dixie Dregs) &Jeff Sipe (Leftover Salmon) replacing Cobham in1999, and guitarist Jeff Pevar (CSN, David Crosby CPR, Phil Lesh &Friends) replacing Herring in 2000, recorded 3 acclaimed albums, the second of which 'Laughing Water' in 1999 was in fact an instrumental 'Wake of The Flood' reinterpretation-so there is precedent. That album also featured Derek Trucks, Donna Jean Godchaux & Vassar Clements.