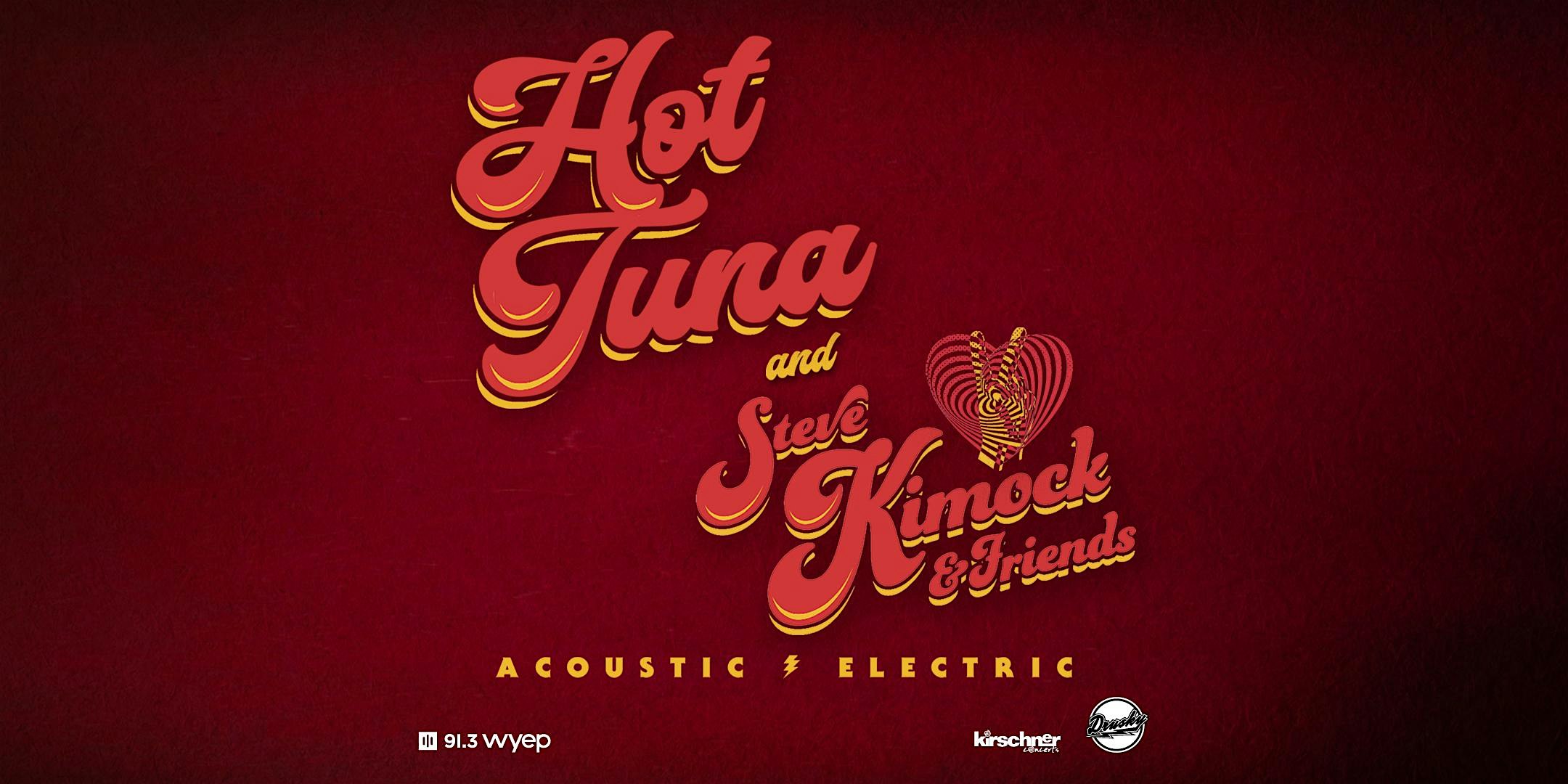 Hot Tuna - Acoustic and Electric
HEALTH AND SAFETY NOTICE
Per the artist's request, for the safety of patrons, artists, and staff, attendees must present proof of COVID-19 vaccination (must be dated 2 weeks from the final dose) or a negative COVID-19 test dated no more than 72 hours prior to the event date.
If you are unable or unwilling to provide the requested documentation, or if you do not have the ability to provide a test result taken within the requested window, you may request a refund through your Eventbrite account. The refund request window will begin today and will close on Tuesday, November 30th, 2021 @ 6PM
91.3 WYEP, Drusky Entertainment & Kirschner Concerts Presents
HOT TUNA - Acoustic & Electric
plus special guest Steve Kimock & Friends
Monday, December 7th, 2021
Doors: 7:00PM / Show: 8:00PM
Carnegie of Homestead Music Hall
$49.75 - $74.75
Venue pre-sale: Thurs. Feb 20 @ 10AM
Public on-sale: Fri. Feb 20 @ 12PM
This event is all ages!
*SUPPORT IS SUBJECT TO CHANGE WITHOUT PRIOR NOTICE
About Hot Tuna:
The name Hot Tuna invokes as many different moods and reactions as there are Hot Tuna fans — millions of them. To some, Hot Tuna is a reminder of some wild and happy times. To others, that name will forever be linked to their own discovery of the power and depth of American blues and roots music. To newer fans, Hot Tuna is a tight, masterful duo that is on the cutting edge of great music.
All of those things are correct, and more. For more than four decades, Hot Tuna has played, toured, and recorded some of the best and most memorable acoustic and electric music ever. And Hot Tuna is still going strong — some would say stronger than ever.
The two kids from 1950s Washington, D.C. knew that they wanted to make music. Jorma Kaukonen, son of a State Department official, and Jack Casady, whose father was a dentist, discovered guitar when they were teenagers (Jack, four years younger, barely so). They played, and they took in the vast panorama of music available in the nation's capital, but found a special love of the blues, country, and jazz played in small clubs.
Jorma went off to college, while Jack sat in with professional bands and combos before he was even old enough to drive, first playing lead guitar, then electric bass.
In the mid-1960s Jorma was invited to play in a rock'n'roll band that was forming in San Francisco; he knew just the guy to play bass and summoned his old friend from back east. The striking signature guitar and bass riffs in the now-legendary songs by the Jefferson Airplane were the result.
The half-decade foray into 1960s San Francisco rock music was for Jack and Jorma an additional destination, not the final one. They continued to play their acoustic blues on the side, sometimes performing a mini-concert amid a Jefferson Airplane performance, sometimes finding a gig afterwards in some local club. They were, as Jack says, "Scouting, always scouting, for places where we could play."
The duo did not go unnoticed and soon there was a record contract and not long afterwards a tour. Thus began a career that would result in more than two-dozen albums, thousands of concerts around the world, and continued popularity.
Hot Tuna has gone through changes, certainly. A variety of other instruments, from harmonica to fiddle to keyboards, have been part of the band over the years, and continue to be, varying from project to project. The constant, the very definition of Hot Tuna, has always been Jorma and Jack.
The two are not joined at the hip, though; through the years both Jorma and Jack have undertaken projects with other musicians and solo projects of their own. But Hot Tuna has never broken up, never ceased to exist, nor have the two boyhood pals ever wavered in one of the most enduring friendships in music.
Along the way, they have been joined by a succession of talented musicians: Drummers, harmonica players, keyboardists, backup singers, violinists and more, all fitting with Jorma and Jack's current place in the musical spectrum. Jorma and Jack certainly could not have imagined, let alone predicted, where the playing would take them. It's been a long and fascinating road to numerous, exciting destinations. Two things have never changed: They still love playing as much as they did as kids in Washington, D.C. and there are still many, many exciting miles yet to travel on their musical odyssey.
The Musicians
Jorma Kaukonen
In a career that has already spanned a half century, Jorma Kaukonen has been the leading practitioner and teacher of fingerstyle guitar, one of the most highly respected interpreters of American roots music, blues, and Americana, and at the forefront of popular rock-and-roll.
Jorma graduated from high school and headed off for Antioch College in Ohio. There he met Ian Buchanan, from New York City, who introduced him to the elaborate fingerstyle fretwork of the Rev. Gary Davis. Jorma was hooked.
A work-study program in New York introduced the increasingly skilled Kaukonen to that city's burgeoning folk-blues-bluegrass scene and many of its players. He would leave college and undertake overseas travels before returning to classes, this time in California.
There he earned money by teaching guitar. A friend who taught banjo mentioned to Jorma he and another friend were thinking of starting a band — was Jorma interested? Though he was less interested in rock than in the roots music that was his passion, Jorma decided to join. It would turn out he would even have something to do with the naming of the band. An acquaintance liked to tease his blues-playing friends by giving them nicknames which parodied those of blues legends. Jorma, he had decided, was "Blind Thomas Jefferson Airplane." When the new band needed a name, Jorma mentioned this, and thus the Jefferson Airplane was christened.
He sent word back to Washington, where his teenage musical partner Jack Casady had taken up electric bass. Did Jack want to come to San Francisco and be in a band?
The Kaukonen-Casady duo created much of the Jefferson Airplane's signature sound, and Jorma's lead and fingerstyle guitar playing characterizes some of the band's most memorable tracks. The two would often play clubs following Airplane performances. A record deal was made and Hot Tuna was born. Jorma left the Jefferson Airplane after the band's most productive five years. Hot Tuna had become a full-time job.
Jorma has also had a succession of more than a dozen solo albums, beginning with 1974's "Quah" and continuing through "Blue Country Heart" in 2002, the much-anticipated "Stars In My Crown," followed by the touching and very personal "River of Time." In February, 2015 Jorma releases "Aint In No Hurry" on Red House. Ain't In No Hurry, show Jorma at the top of his game. Playing with a confidence and a touch that come from a lifetime spent writing and performing.
Along with his wife, Vanessa, Jorma operates and teaches at Jorma Kaukonen's Fur Peace Ranch Guitar Camp. Here, on a sprawling and rustic yet modern campus, musicians and would-be musicians come for intensive and enjoyable workshops taught by Jorma, Jack and other extraordinary players like G.E. Smith, David Lindley, Steve Kimock, Bob Margolin, Chris Smither, Peter Rowan and more.
In addition, Jorma started BreakDownWay.com, a unique interactive teaching site that brings Jorma and Jack's (and a host of other outstanding musicians) musical instruction to students all over the world.
Jack Casady
Few musicians have the opportunity and skill to create an entire style of playing, but Jack Casady has done exactly that with the electric bass. With roots as a lead guitar player, Jack broadened the range and scope of the bass, taking it out of the rhythm category and bringing to it a world of complex and complementary melodies.
The son of a Washington, D.C.-area dentist, Jack fell in love with music at an early age and took full advantage of the wide cultural experience the city had to offer, from classical and jazz concerts to the strong southern musical influence to the small blues and jazz clubs not normally populated by children.
"One night I'd be down at the Howard Theater seeing Ray Charles," he remembers, "and the next night I would be at the Shamrock Tavern in Georgetown, hearing Mac Weisman, Lester Flatt and Earl Scruggs, and other bluegrass people. And the next night it would be jazz — people like Eric Dolphy and Roland Kirk." He took up guitar and became friends with an older boy, a guitar novice named Jorma Kaukonen.
Together they explored the area's music scene.
When Jorma went to college, young Jack continued his methodical study of guitar, often sitting in with local club bands. One night he was asked to play the bass, and thus began a love affair with the instrument that has endured for close to a half century.
Jack has played bass with numerous groups and legendary performers, from Jimi Hendrix to Government Mule and beyond. His signature bass sound was front and center in his critically acclaimed solo CD, "Dream Factor."
The inventor of the Jack Casady style of bass playing devotes much of his time to passing on what he has learned and invented, by teaching several times each year at Jorma's Fur Peace Ranch.
Over a decade ago, Jack designed The Jack Casady Signature Bass in collaboration with Epiphone. This bass is the culmination of years of experimentation playing with the Jefferson Airplane and Hot Tuna. Jack simply wanted to find an instrument with superb, balanced electric tone and the response of an acoustic bass.
With three very different models available, this bass continues to be one of Epiphone's hottest selling instruments and is played by some of the worlds most inventive bassists like Flea (Red Hot Chili Peppers), Chris Null, Josh Ward, Glenn Five aka G5 and Dominic Davis. The Epiphone Jack Casady Signature Bass is as unique as Jack, with a vibe, tone, and innovative features all its own.
Venue Information:
Carnegie of Homestead Music Hall
510 East 10th Ave
Munhall, PA
DISCLAIMER: The requirements as to presentment of either proof of Covid-19 vaccination or of negative testing results for Covid-19 applicable to this event are being imposed at the request of the performer(s) and do not necessarily reflect the official policy or position of the Carnegie Library of Homestead. The Carnegie Library of Homestead disclaims any liability with respect to the establishment of these requirements or as to their enforcement during the event.
Monday, December 7th, 2021 at 8 pm | HEALTH AND SAFETY NOTICE BELOW