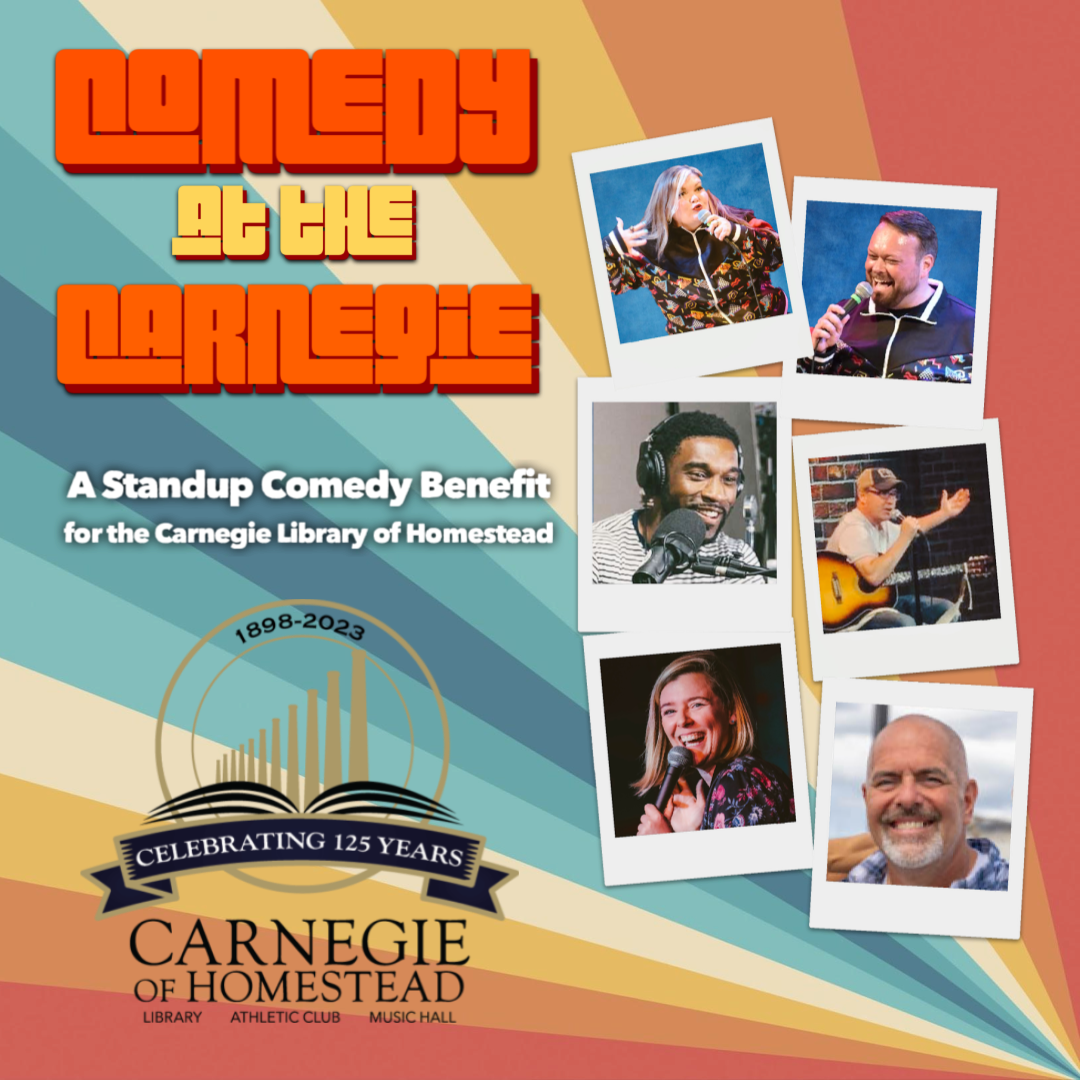 SATURDAY, April 1st, 2023 "The Friends of the Carnegie Library of Homestead" PRESENT THE SECOND ANNUAL - 'Comedy at the Carnegie', a night of great laughs & FUN-draising - all benefiting the historic Carnegie Library of Homestead & their community programs! Celebrating it's 125th year serving the community!
A night of Stand-up and musical comedy, featuring THREE Steel Valley alumni - nationally recognized comedian/actor, AARON KLEIBER (Amazon, x5 Best Pgh Comedian, Pgh Today Live); one of Pittsburgh's best and brightest personalities, MISSY MORENO (Pgh Theater, The Second City Chicago); and BRIAN LINSENBIGLER (Pgh Improv) - FEATURING SPECIAL GUEST BUBBA from 100.7 STAR Pittsburgh The Bubba Show! ALSO introducing more of the BEST of Pittsburgh standup with HELEN WILDY (national fests, Helium Records) ED BAILEY (Very Local TV, Drinking Partners Podcast) and MIKE TRAVERS (kdka, wdve, national improv comedy clubs).
Event Features: Comedy Show (PG-17) - Cash Bar, Auntie Anne's Pretzels, Gift Auctions, Basket of Cheer, 50/50 Raffle!
SHOW STARTS at 7:30 pm
Doors open for PRE-SHOW Mixer at 6:00 pm; located in the library & shuffleboard room
Doors to SEATING in the music hall open at 6:45 pm
**ONLINE TICKETING ENDS Saturday, April 1st, 4:00pm EST*
**TICKETS WILL BE AVAILABLE AT THE DOOR*
Help celebrate the history and future of this historic landmark. The Friends of Carnegie Library of Homestead is a 501c3 non-profit charitable organization whose purpose is to support the library in education, history, and community. All proceeds from this fundraiser will be used to benefit the Carnegie Library to keep the community vibrant with history and a place to learn.
*No outside food/beverage inside the library or music hall.