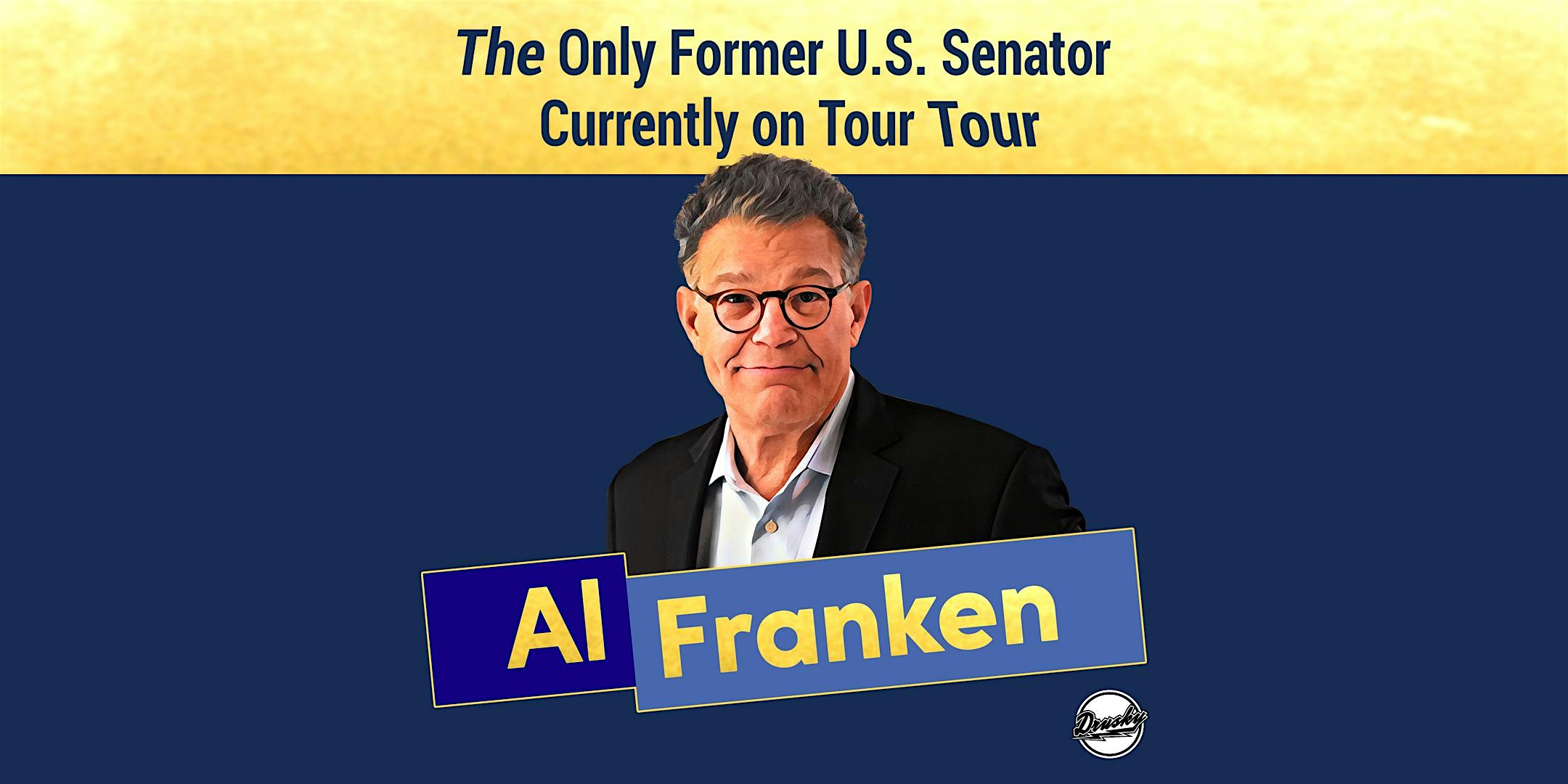 Al Franken: "The Only Former U.S. Senator Currently On Tour" Tour
HEALTH AND SAFETY NOTICE
Per the artist's request, for the safety of patrons, artists, and staff, attendees must present proof of COVID-19 vaccination or a negative COVID-19 test dated no more than 72 hours prior to the event date. For proof of vaccination, physical card, photo of card or app (i.e. CLEAR Health Pass will be accepted. Both vaccination or negative test must match the named on your valid ID. Per CDC guidance, we strongly encourage masking at this event, unless actively eating or drinking.
Drusky Entertainment Presents
Al Franken: "The Only Former U.S. Senator Currently On Tour" Tour
Saturday, October 23rd, 2021
Doors: 7:00PM / Show: 8:00PM
Carnegie of Homestead Music Hall (Munhall, PA)
$50.00 - $95.00
This event is all ages
If you are unable or unwilling to provide the requested documentation, or if you do not have the ability to provide a test result taken within the requested window, you may request a refund through your Eventbrite account. The refund request window will begin today and will close on Friday, September 10th.
DISCLAIMER: The requirements as to presentment of either proof of Covid-19 vaccination or of negative testing results for Covid-19 applicable to this event are being imposed at the request of the performer(s) and do not necessarily reflect the official policy or position of the Carnegie Library of Homestead. The Carnegie Library of Homestead disclaims any liability with respect to the establishment of these requirements or as to their enforcement during the event.
ABOUT
As far as anyone knows, Al Franken is the only U.S. Senator who was also one of the original writers for Saturday Night Live. During his fifteen seasons with SNL, Franken won five Emmy's for writing and producing. He's also the author of four #1 New York Times bestsellers, including Rush Limbaugh is a Big Fat Idiot and Other Observations, Lies and the Lying Liars Who Tell Them – A Fair and Balanced Look at the Right, and Al Franken, Giant of the Senate.
Franken served Minnesota in the Senate from 2009-2018, clobbering his first opponent, incumbent Senator Norm Coleman, by 312 votes. He won his second election by well over 200,000 votes. Franken served on the Judiciary, Energy, Indian Affairs, and HELP (Health, Education, Labor, and Pensions) Committees where he routinely embarrassed badly prepared witnesses and was a fierce opponent of media concentration, mandatory arbitration, and Betsy DeVos.
The Al Franken Podcast is one of the nation's top-ten politics and public affairs podcasts with guests like Malcolm Nance, Sarah Silverman, Paul Krugman, Chris Rock, and Michelle Obama. Well, not Michelle Obama, but guests like her.
His political action committee, Midwest Values PAC, supports progressive Democrats, voting rights, and a host of other good, non-political things.
Al and his wife, Franni, have been married for 45 years, many of them happy. They have two kids and four grandchildren.
Saturday, October 23rd, 2021 | This event is all ages! *Proof of COVID-19 vaccination or negative COVID test required for entry.